EYE/EAST is a sale that is sweeping in scope, ranging throughout the entire Asian continent and spanning through 5000 years of history. With 250 works encompassing modern and contemporary Asian art, Chinese modern and classical paintings, and Chinese works of art, the cross-category sale showcases a multifaceted assemblage. Yet all of these works resonate in their shared origins, springing forth from the three systems of thought: Buddhism, Taoism and Confucianism. While the tenets of these philosophies are manifestly expressed in Buddhist sculpture, scholar rocks, and archaic bronzes, so are they reflected in modernist and contemporary works such as Léonard Tsuguharu Foujita's Printemps, Sofu Teshigahara's 'Dragon' folding screen or contemporary scholar Tung Chiao's calligraphic works.
EYE/EAST
EYE/EAST presents an unmatched showcase of Eastern aesthetics with works from the Neolithic period to the present day, with estimates ranging from HK$5,000 to HK$1 million.
"EYE/EAST is a cross-category sale that presents artistic trends from China and all across Asia with works spanning 5000 years of history. From avant-garde Japanese calligraphy to ancient Buddhist sculpture, from classical ink painting to abstract expressionist art, the eclectic selection will appeal to seasoned as well as younger collectors."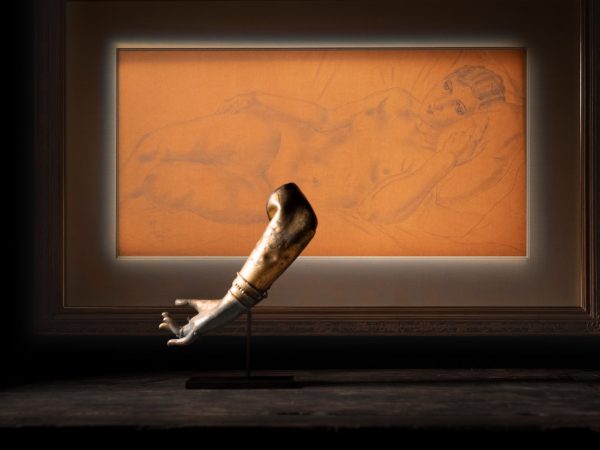 Léonard Tsuguharu Foujita, Nu Allongé, pencil on paper, 1927. A Gilt-Bronze Fragment of An Arm of Vajradhara, Ming Dynasty.
Buddhism
Statues representing the Buddha are instinct with teachings of compassion or wisdom. Every detail of the figure holds the concept, from the softly focused gaze of the eyes to the subtle expression of the mudras. Each part is the whole itself, each fragment a complete work, and each feature can in itself become an object of devotion.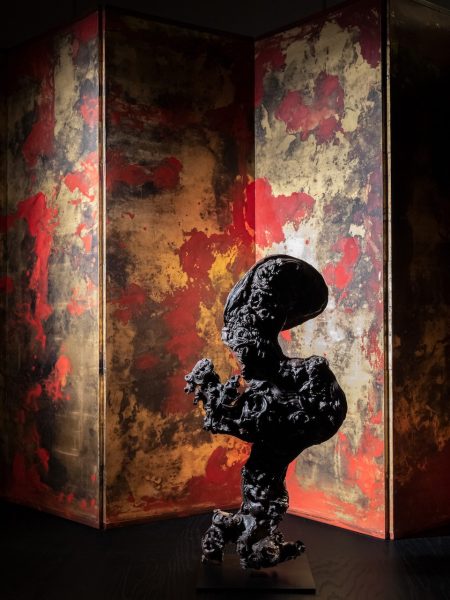 Sofu Teshigahara, Dragon (Folding Screen), circa 1970. A Root Wood Sculpture, Qing Dynasty, 18th Century.
Taoism
The attention settles on something that once existed but has disappeared – a missing part. This absence serves as a remedy to the modern fixation on matter and foundation. Like the fragment of beauty which is complete, so is this unfilled space. The weathered wood and deep shadows create the possibilities of this paradox, awakening us to a profound sense of our connectedness.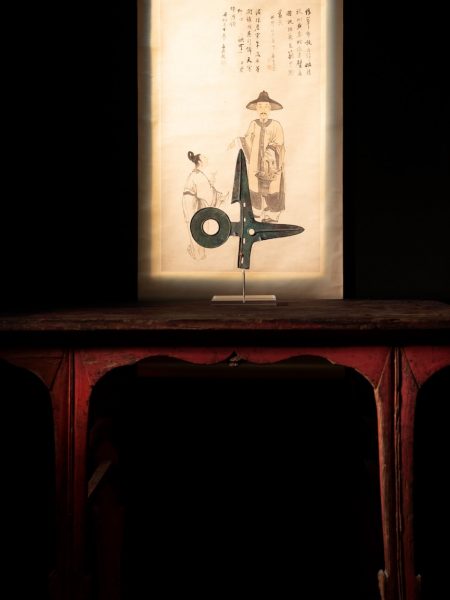 Jiang Jing, Han Kang Selling Medicine, ink and colour on paper, hanging scroll, late 18th Century. A Red Lacquer Recessed-Leg Wine Table, Ming Dynasty, 16th Century. A Rare Bronze Dagger, Ge, Early Western Zhou Dynasty, 11th – 10th Century b.c.
Confucianism
Conforming to the way of nature, harmony is brought about through rites, a form of devotional practice that is not idolatry but a powerful expression of reverence, cohesion and unification. The interaction between art and ritual cultivates the capacity for understanding such harmony, and finding beauty in a transcendent and eternal order.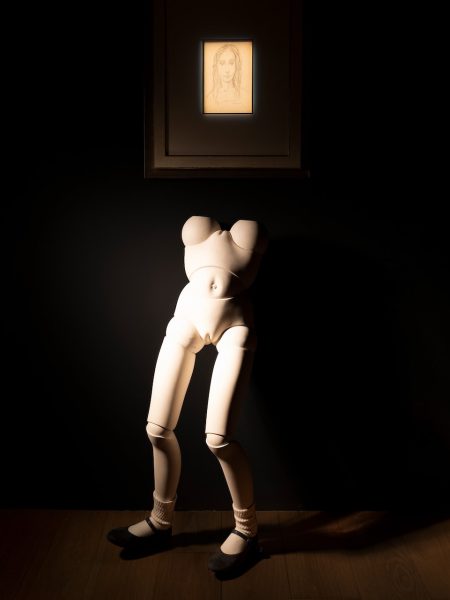 Nori Doi, Doll After Hans Bellmer, circa 1960s. Leonard Tsuguharu Foujita, L'etonnement, pencil on paper.
Sotheby's Hong Kong is pleased to present EYE/EAST, a cross-category sale that showcases Eastern aesthetics with works from the Neolithic period to the present day. Compelling and aesthetically engaging, the sale to be held on 22 May comprises around 240 works encompassing Modern and Contemporary Asian art, Chinese Paintings and Calligraphies, as well as Chinese Works of Art. Highlights include Léonard Tsuguharu Foujita's Printemps, Sofu Teshigara's Dragon (Folding Screen), evening scenery by Singaporean modern master Cheong Soo Pieng, a calligraphy work by Qing dynasty calligrapher He Shaoji and a large Liao dynasty stone head of Avalokiteshvara, a series of calligraphy works by contemporary scholars, and classical and modern paintings from a Hong Kong private collection.
Live Auction: 22 May 2020 (10 am and 2 pm)
Exhibition: 15 – 21 May 2020 (by appointment)
Sotheby's Hong Kong Gallery
Discuss in Kanban.