"The creation of this indecipherable mesh and its plasticity are a mystery, just like our brain, the universe, and of course, life. I have no answers, only questions. These questions are the foundations of my work."
Chiharu Shiota, the Japanese performance and installation artist often employs the use of everyday objects like beds, windows, and shoes within her work to explore the relationship between living and dying and to access memories found within these objects. Often Shiota's installations fill an entire room, yet hold a delicate and poetic composition. Shiota was born in 1972 in Osaka, and has been living and working in Berlin for the past two decades.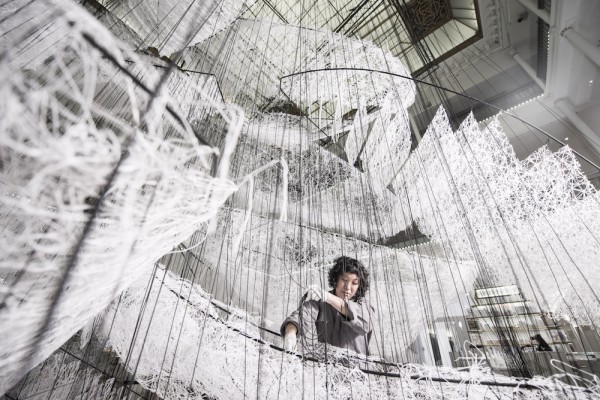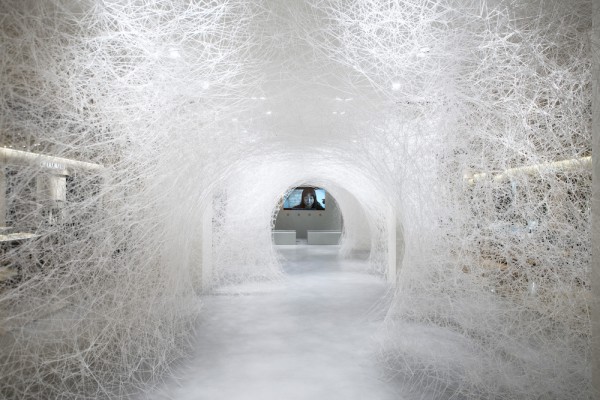 The newest installation by Shiota is composed of nearly 300,000 yards of white yarn, woven to encapsulate the center, ground floor, and ten windows of Le Bon Marché. The exhibition, titled Where are we going?, features 150 boats within the French department store's center, and the ground-floor exhibition will house a giant threaded wave that visitors are encouraged to walk through. Despite boats being a common theme in Shiota's work, this installation marks the first time she has used white yarn, previously creating installations with only black or red thread.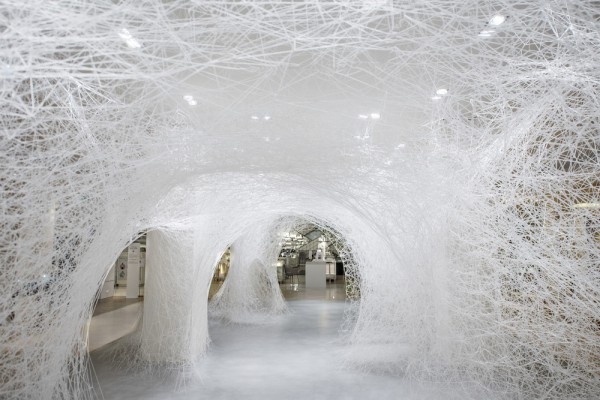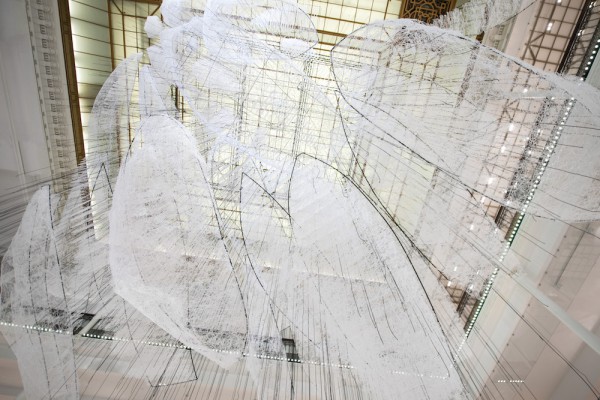 The title of the exhibition, Where are we going?, refers to the mysterious destinations that pinpoint each of our individual and collective lives. Therefore the boats in this installation represent vessels sailing towards unknown locations, the works expressing both a sense of poetry and a sense of unease over what is to come.
"I am struck by the multiplicity of interactions that we experience every day, by their connections with the past and the future," said Shiota in an interview with Le Bon Marché. Shiota's Where are we going? was displayed at Le Bon Marché during February, 2017.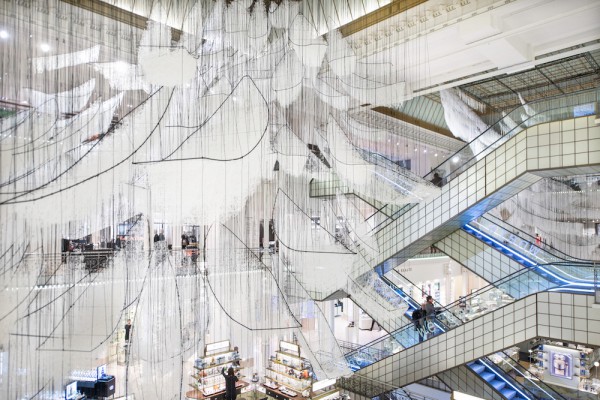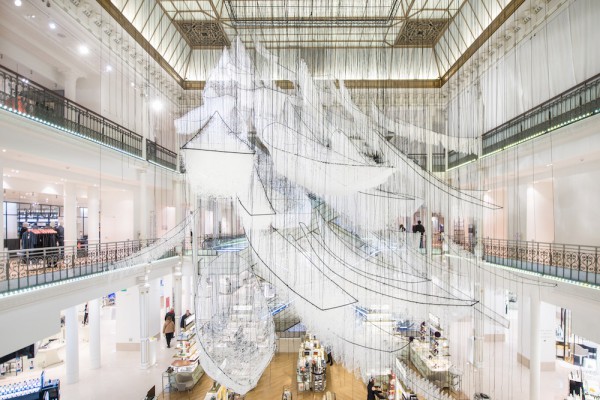 All images, "Where are we going?" Installation by Chiharu Shiota at Le Bon Marché Rive Gauche, copyright Gabriel de la Chapelle
For her especially installation at Blain|Southern in Berlin, Shiota has constructed a twisted network of tangled red yarn that rises from a collection of skeletal boats.Titled Uncertain Journey, the artwork envelopes the viewer by creating a blood-red canopy reminiscent of a neural network that meanders in every direction. The piece is a continuation of Shiota's work with yarn, most notably her 2015 installation The Key in the Hand for the 56th Venice Art Biennale.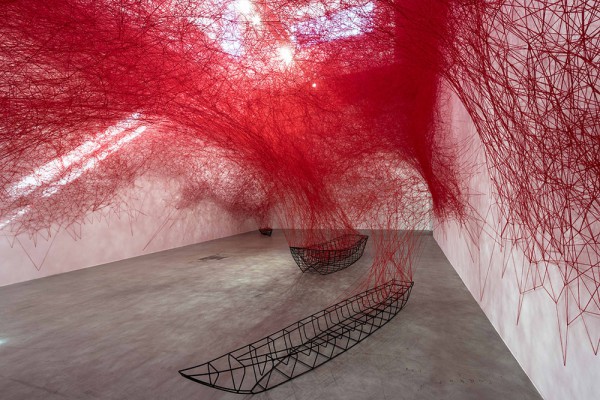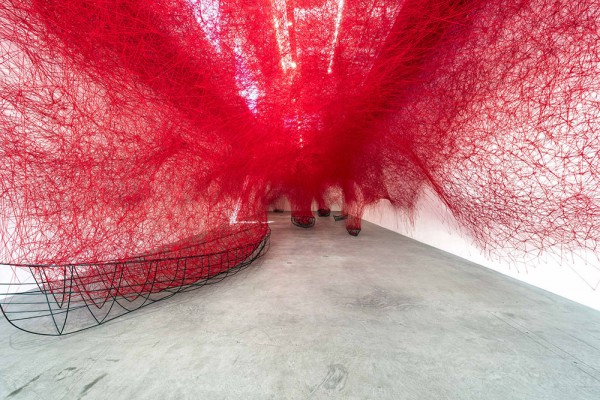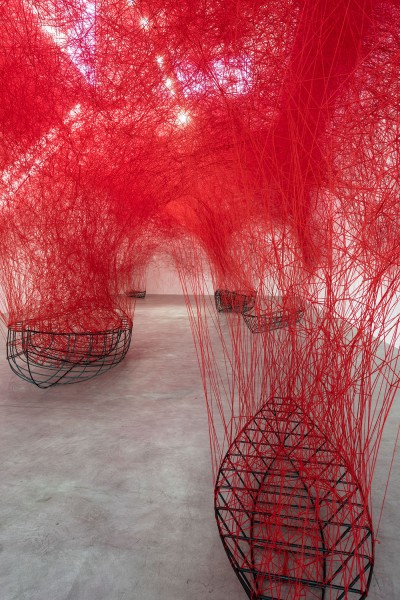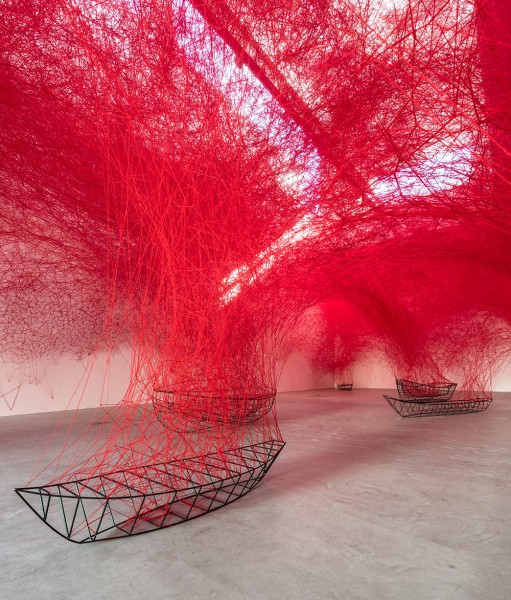 Chiharu Shiota, Uncertain Journey, 2016, Installation view, Courtesy the artist and Blain|Southern, All photos by Christian Glaeser.
The 2015 Venice Art Biennale is home to Shiota's 'The Key in the Hand,' an elaborate entanglement of red wool and keys that dangle above two ancient looking boats. Living within the biennale's Japan pavilion, the installation nearly blocks out the ceiling with its mass of crossing strings, and includes a collection of more than 50,000 keys.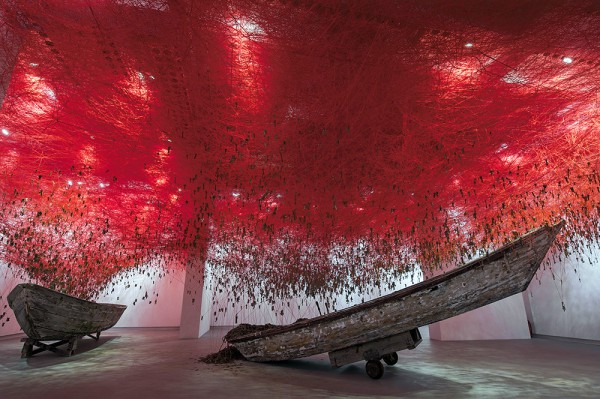 The piece points towards memory through its composition of materials as the keys were collected from thousands of people around the world. Each key holds memories of the individual through their previous daily use, and now hangs amongst the many other memory-tied talismans above the heads of passing visitors.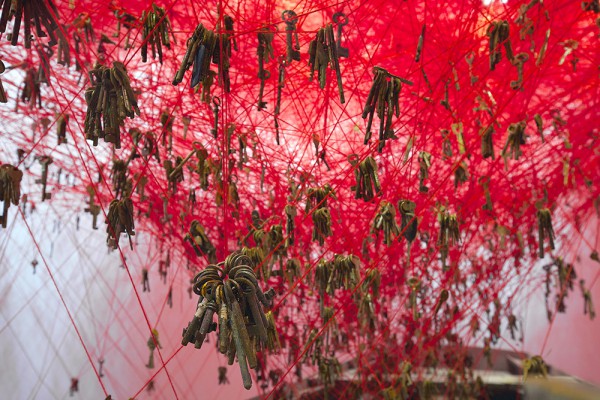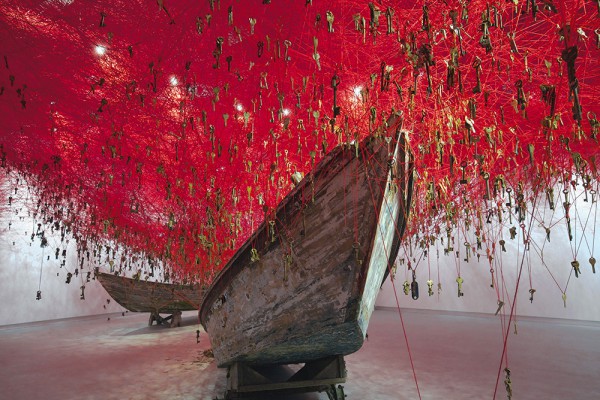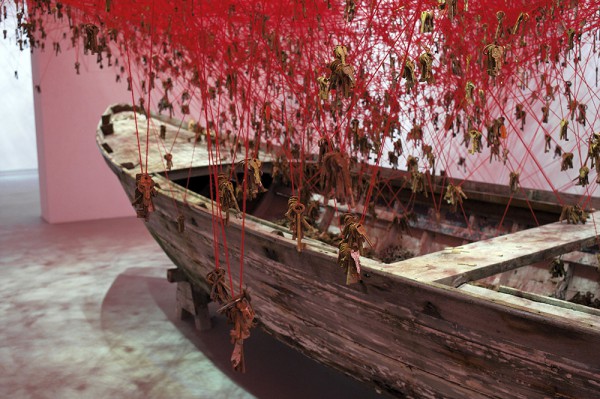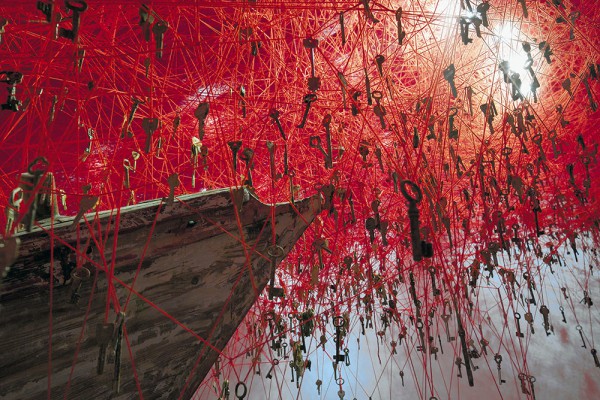 "Keys are familiar and very valuable things that protect important people and spaces in our lives," said Shiota. "They also inspire us to open the door to unknown worlds… I would like to use keys provided by the general public that are imbued with various recollections and memories that have accumulated over a long period of daily use."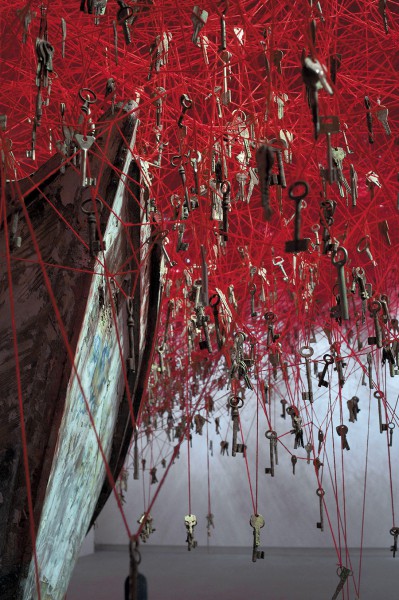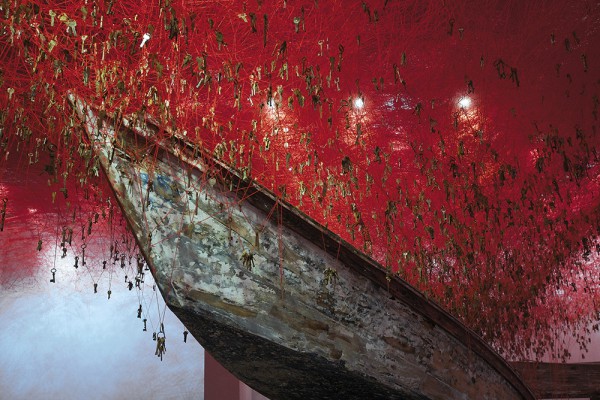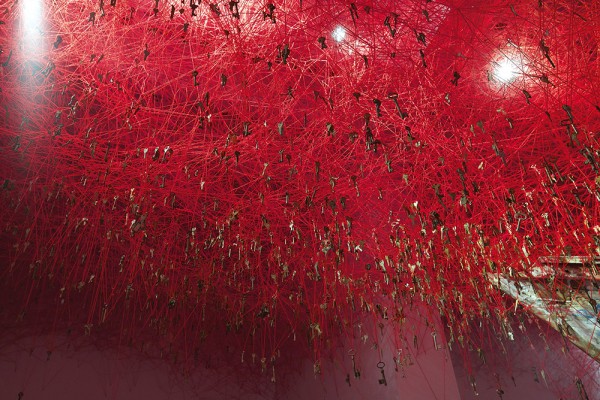 The Key in the Hand, 2015, red wool, old boats, old keys. All photos by Sunhi Mang. Via Colossal
Discuss in Kanban. Scan the QR-code and join the group to view the original content only for members. Join now to enjoy both ultra-low membership price and paid subscription!