In December of 2013, an Instagram account called Daily Overview began to catalog a wide spectrum of satellite images that capture the many ways people have transformed the face of Earth, for better or worse. The account is run by Benjamin Grant who uses imagery taken from DigitalGlobe, an advanced collection of Earth imaging satellites that provide data to services like Google Earth.
Featured image: Wuhan hospital construction
The project gets its title from a phenomenon experienced by astronauts who spend extended periods of time in space and what they describe as a "cognitive shift in awareness" as they continuously view the world from above dubbed the overview effect.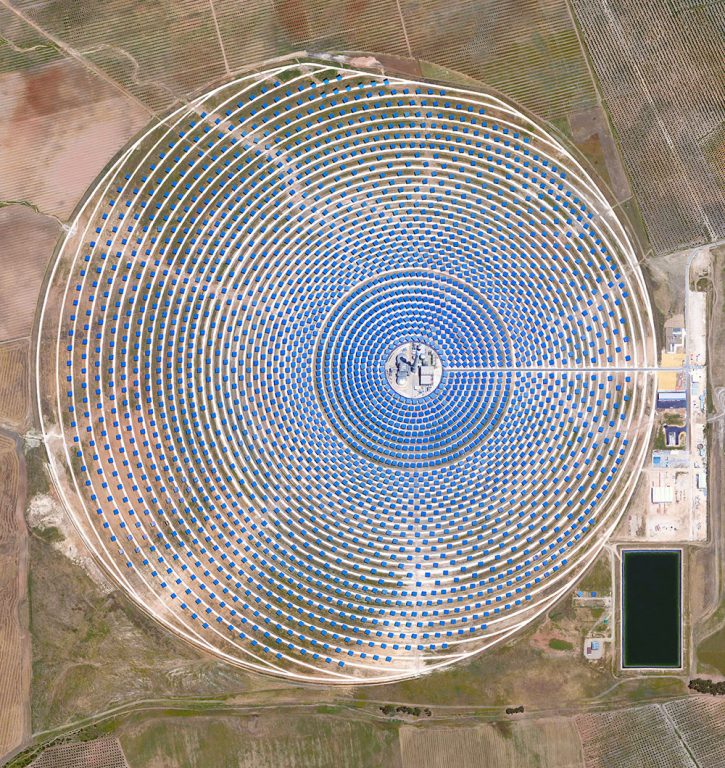 Gemasolar Thermosolar Plant / 37.560755°, –5.331908°
This Overview captures the Gemasolar Thermosolar Plant in Seville, Spain. The solar concentrator contains 2,650 heliostat mirrors that focus the sun's thermal energy to heat molten salt flowing through a 140-metre-tall (460-foot) central tower. The molten salt then circulates from the tower to a storage tank, where it is used to produce steam and generate electricity. In total, the facility displaces approximately 30,000 tonnes of carbon dioxide emissions every year.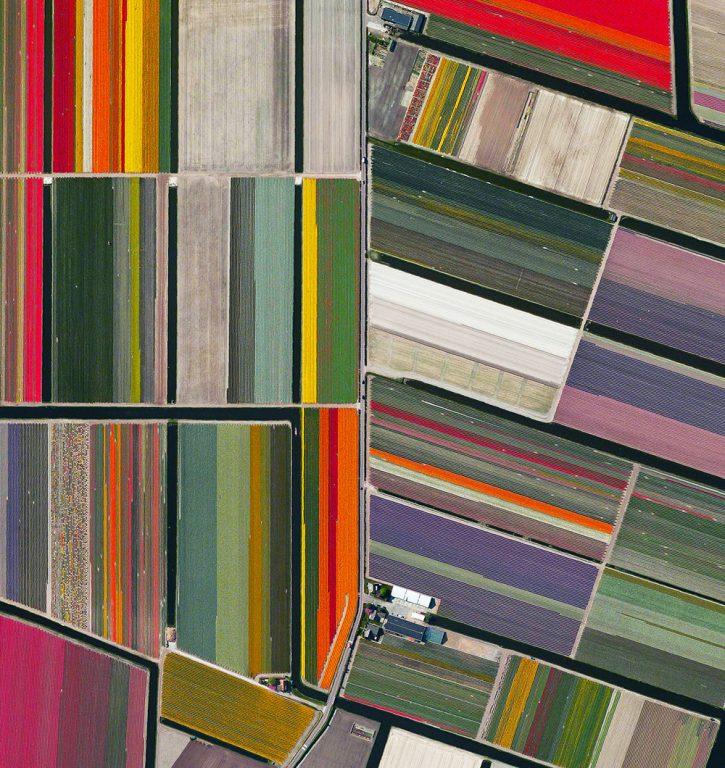 Tulips / 52.276355°, 4.557080°
Every year, tulip fields in Lisse, Netherlands begin to bloom in March and are in peak bloom by late April. The Dutch produce a total of 4.3 billion tulip bulbs each year, of which 53% (2.3 billion) is grown into cut flowers. Of these, 1.3 billion are sold in the Netherlands as cut flowers and the remainder is exported: 630 million bulbs to Europe and 370 million elsewhere.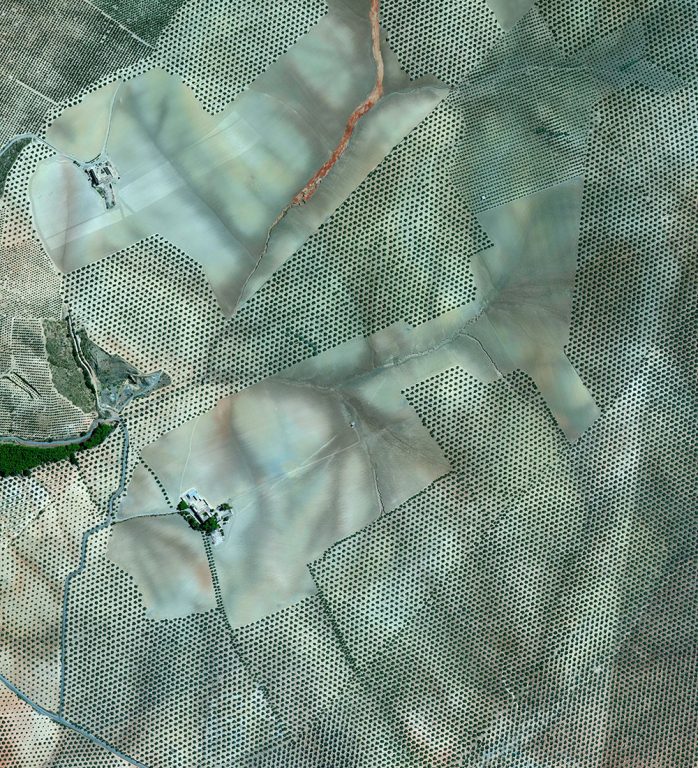 Olives / 37.263212°, –4.552271°
Olive tree groves cover the hills of Córdoba, Spain. Approximately 90% of all harvested olives are turned into oil; the remaining 10% are eaten as table olives. With rising temperatures and phenomenal weather variations in growing regions, olive groves on high hills or slopes will probably suffer less, but groves located on low altitude areas or plains could become totally unproductive.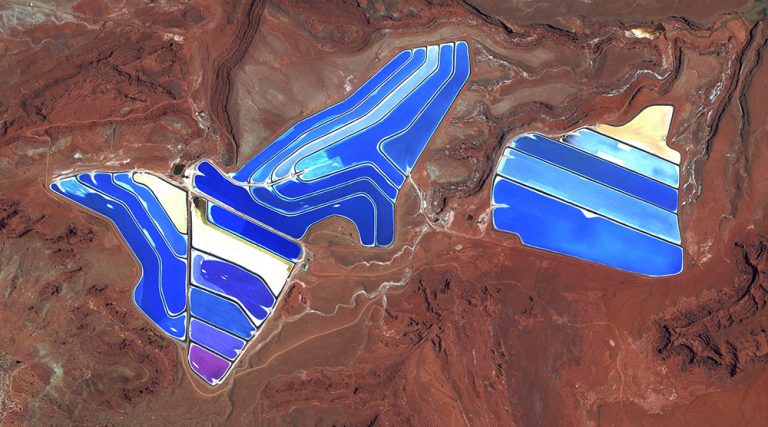 Moab Potash Evaporation Ponds / 38.485579°, –109.684611°
Evaporation ponds are visible at the potash mine in Moab, Utah, USA. The mine produces muriate of potash, a potassium-containing salt that is a major component in fertilisers. The salt is pumped to the surface from underground brines and dried in massive solar ponds that vibrantly extend across the landscape. As the water evaporates over the course of 300 days, the salts crystallise out. The colours that are seen here occur because the water is dyed a deep blue, as darker water absorbs more sunlight and heat, thereby reducing the amount of time it takes for the water to evaporate and the potash to crystallise.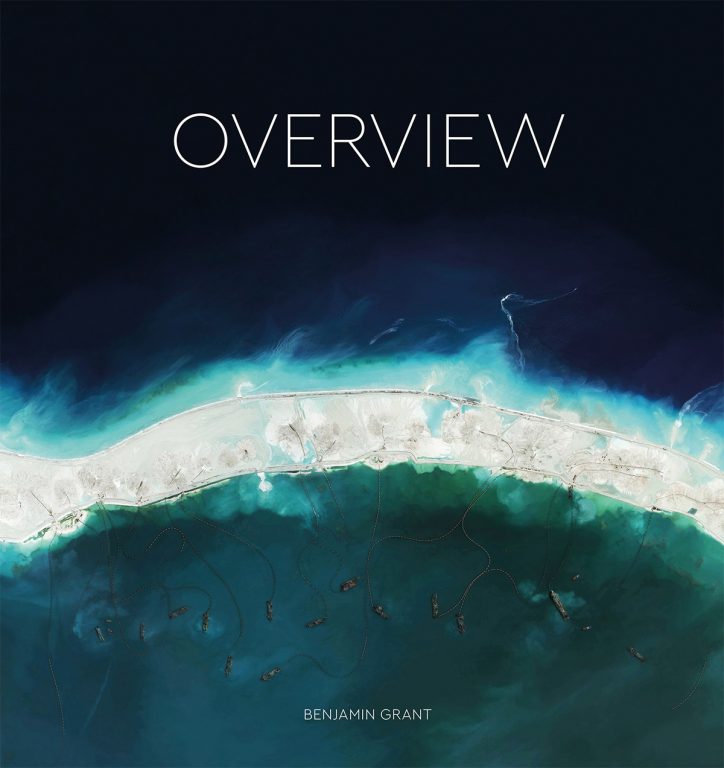 As Grant's Instagram has swelled to nearly a half million followers, some of the best images from the project have been gathered into a new 288-page hardcover book called Overview. The book includes images of our collective impact on Earth, a collection of interlinked systems often too difficult to grasp including aspects of industry, agriculture, and architecture.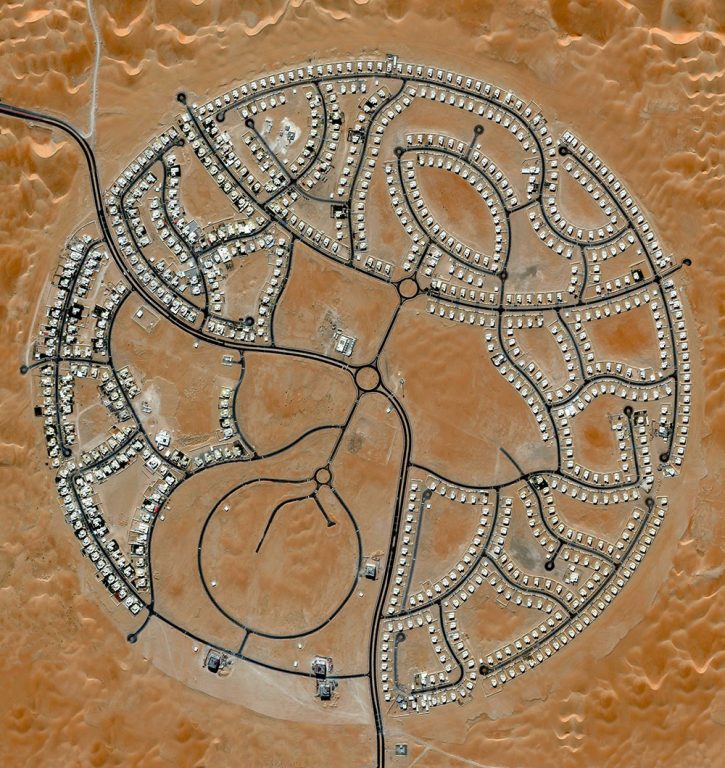 Marabe Al Dhafra / 23.610424°, 53.702677°
The villas of Marabe Al Dhafra in Abu Dhabi, United Arab Emirates are home to approximately 2,000 people. Located in one of the hottest regions of the world, the record high temperature here is 49.2°C (120.6°F).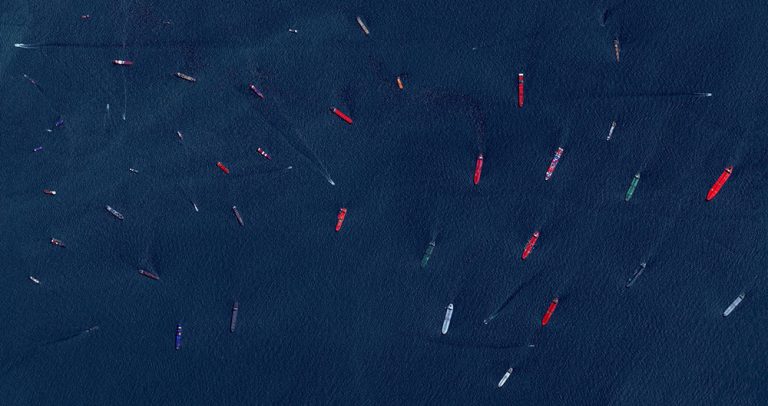 Port of Singapore / 1.237656°, 103.806422°
Cargo ships and tankers – some weighing up to 300,000 tonnes – wait outside the entry to the Port of Singapore. The facility is the world's second-busiest port in terms of total tonnage, shipping a fifth of the world's cargo containers and half of the world's annual supply of crude oil.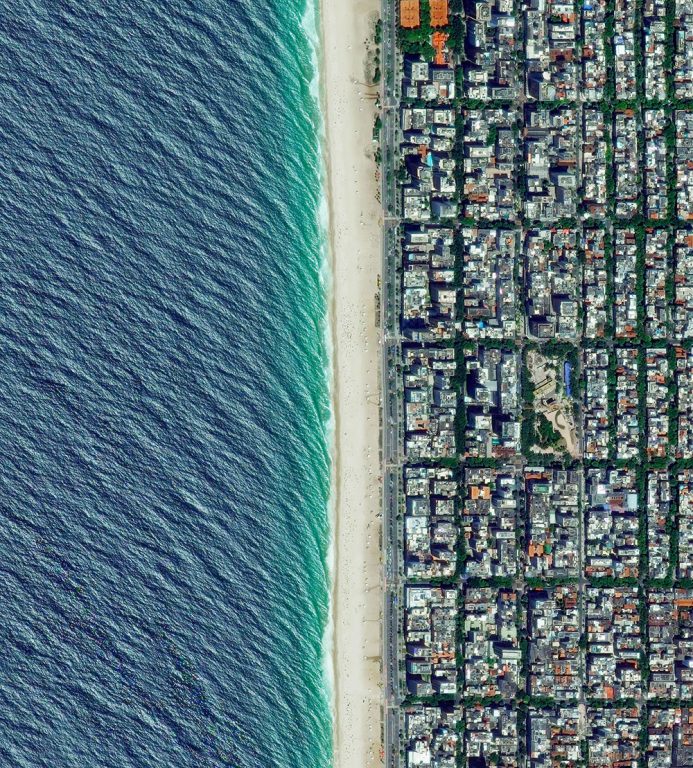 Ipanema Beach / –22.983606°, –43.206638°
Ipanema Beach is located in the South Zone of Rio de Janeiro, Brazil. Recognised as one of the most beautiful beaches in the world, the sand is divided into segments by lifeguard towers known as 'postos'.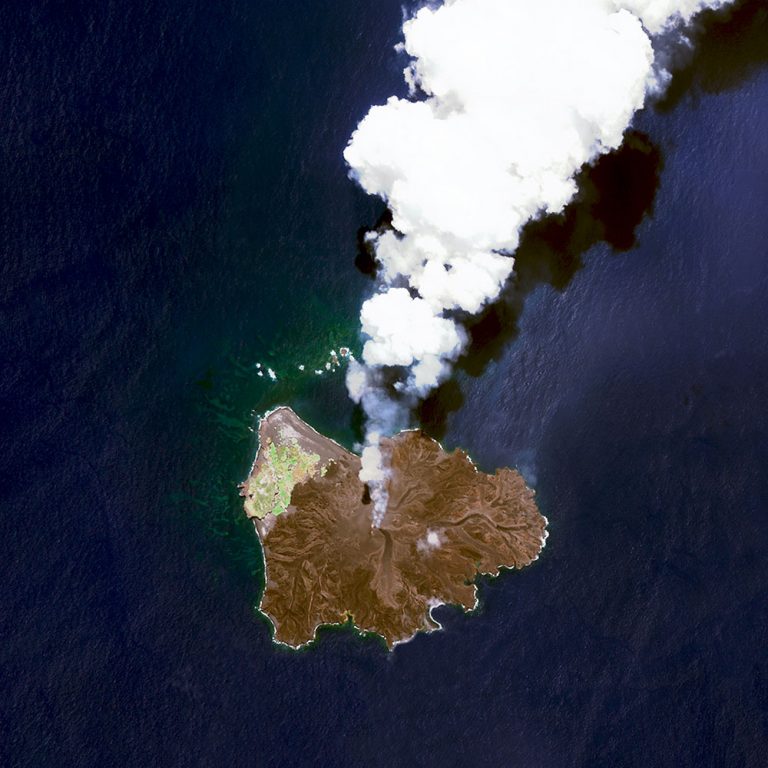 Nishinoshima Volcanic Activity / 27.243362, 140.874420
Nishinoshima is a volcanic island located 940 kilometres (584 miles) south of Tokyo, Japan. Starting in November 2013, the volcano began to erupt and continued to do so until August 2015. Over the course of the eruption, the area of the island grew in size from 0.06 square kilometres (0.02 square miles) to 2.3 square kilometres (0.89 square miles).
All images © 2016 by DigitalGlobe, Inc. from Overview by Benjamin Grant, published by Amphoto Books. Used with permission.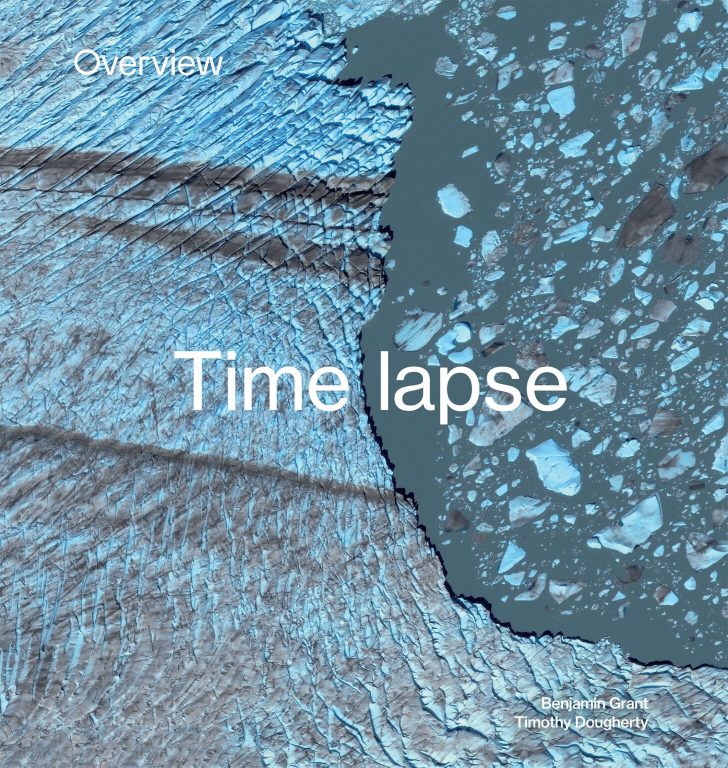 In a follow-up to the 2016 book Overview featuring stunning imagery of the Earth from above, Overview Timelapse: How We Change the Earth takes a critical look at the numerous ways humans have completely altered the surface of our planet in a very short time through urban development, climate change, and deforestation. Overview founder Benjamin Grant and writer Timothy Dougherty have teamed up to examine some 250 new satellite images that capture the remarkable changes currently taking place all around us from a dramatic macro perspective.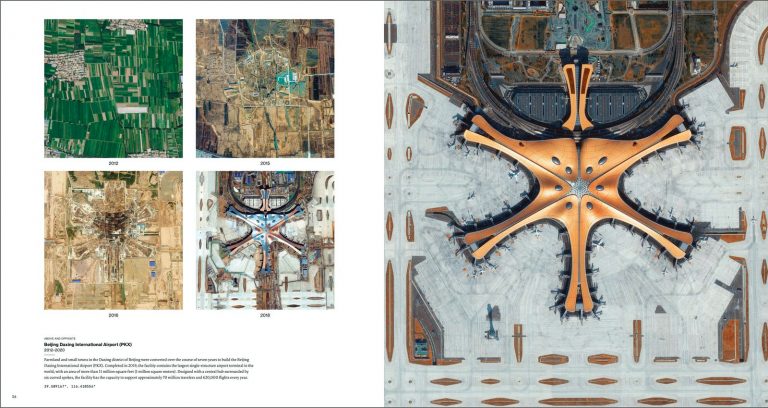 Construction of the Beijing Daxing International Airport 2012-Present.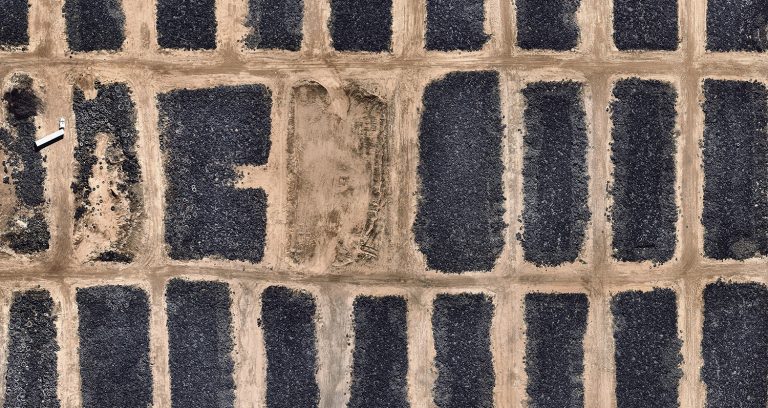 Tire graveyard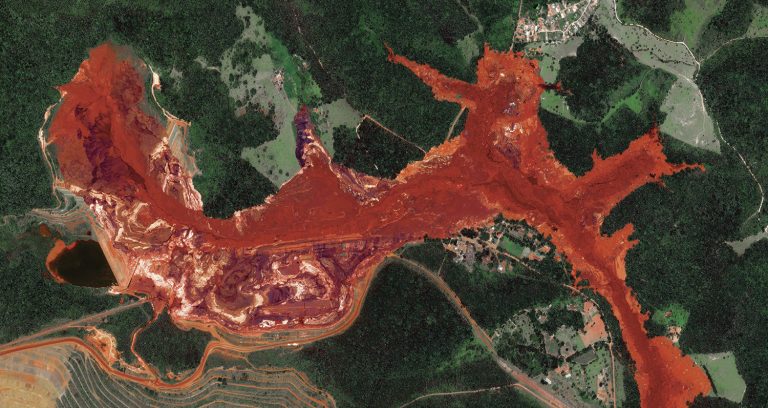 Brumadinho dam collapse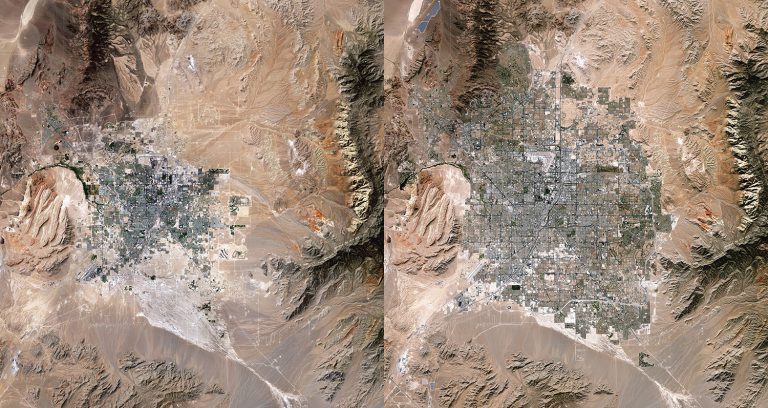 Las Vegas city expansion
Discuss in Kanban. Scan the QR-code and join ArtThat Elites Club, then re-create with artists and take silk-screen handwork home!