In celebration of Hong Kong Arts Month, Sotheby's S|2 is honoured to present American artist Alex Katz's debut major selling exhibition in Hong Kong this March. Running from 15 March – 1 April, the eponymous exhibition ALEX KATZ offers iconic portraits and landscapes by the now 91-year-old titan of modernist figurative art.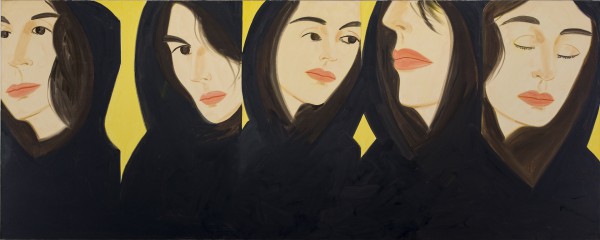 Vivien, 2016, oil on linen, 152.4 x 381 cm
Alex Katz established his career in New York in the 1950s in the heyday of Abstract Expressionism, countering the rise of abstraction with a pioneering modernist figurative aesthetic. Characterised by bold vibrant colour, pristine flat surfaces and a virtuosic economy of line, Katz's celebrated portraits and landscapes are widely regarded as a precursor of Pop Art. His most recognisable works consist of large-scale canvases featuring everyday scenes and subjects, largely devoid of narrative and context in order to foreground the immediacy of the moment. Spanning some 70 years, Katz's oeuvre is devoted to what he describes as "painting in the present tense", revealing his sensitive attention to his immediate milieu: scenes of social interaction, landscapes, flowers, and portraits of friends and family – his wife and muse Ada in particular.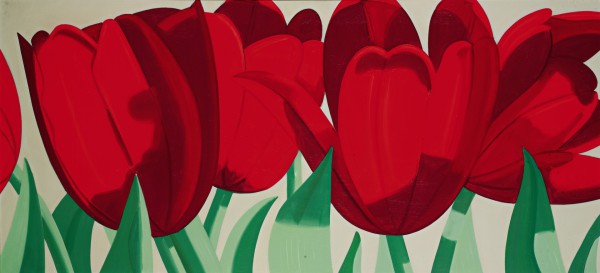 Red Tulips, 1967, oil on canvas, 91.4 x 181.6 cm
Yuki Terase, Head of Contemporary Art, Asia, states, "In continuation of our innovative initiatives that reflect global currents of the art market, Sotheby's is honoured to introduce Alex Katz to Hong Kong. Katz's seminal minimal figurative aesthetic not only anticipated the Pop Art explosion in New York in the 1960s but also influenced generations of artists around the world. Following the artist's recent shows in Shanghai and Seoul, we are excited to unveil more of his iconic works to the maturing Asian market.
Jonathan Wong, Gallery Director, states, "Aligning with the Gallery's long-term commitment to introduce significant Western artists to Asia, Sotheby's is thrilled to present Alex Katz's debut major solo exhibition in Hong Kong. The city's much anticipated Art Month is apt timing for such an occasion. We believe that Katz's bold and pioneering paintings will resonate well in Asia and create new dialogues and perspectives within the current art scene, allowing both established and first-time collectors to rediscover the diversity of contemporary art."
Featured image: Ascension, 2002, oil on linen, 167.6 by 228.6 cm
Art Market Perspective: Alex Katz
David Hockney, for example, the English artist whose works have long been drawn comparisons to those by Katz, have been receiving feverish responses in the market. His 1972 painting Portrait of an Artist (Pool with Two Figures) made news headlines in November 2018 when it fetched US$90 million at a Christie's sale in New York, and the work went on to become the most expensive painting by a living artist sold at auction.
The ways how the art market functions go against the intrinsic value of art at times and this is particularly true in the case of Katz.
Born in 1927 in New York to a family of Russian immigrants, Katz grew up during the times of the Great Depression. He enrolled The Cooper Union Art School in Manhattan in 1946 and held his debut solo show at Roko Gallery in 1954. He went on to define his artistic style in the later decades that anticipated the Pop Art movement while drawing inspirations from his wife Ada, his life-long muse. His artistic achievements have long been recognised, with numerous accolades under his belt and his works in the collection of some of the world's leading institutions such as the Museum of Modern Art in New York and the Tate Gallery in London. In 1986, a retrospective of Katz was held at the Whitney Museum of American Art in New York.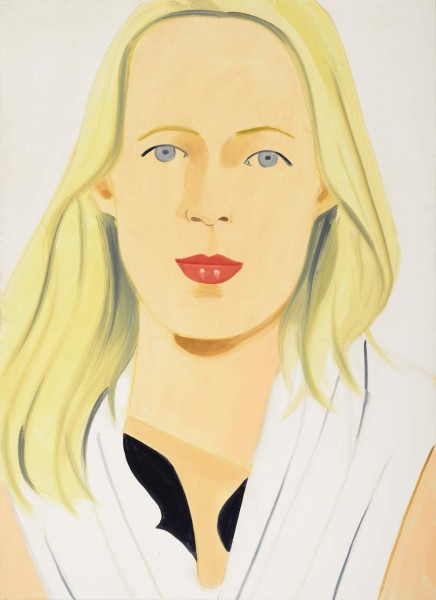 Elise, 2013, oil on linen, 167.6 x 122 cm
Despite all these recognitions, however, Katz's art has yet to fit in with the game of the art market, just like how he described himself in the New Yorker: "I never fit in. I'm not a Pop artist, and people can't see my work is realistic, either." He is also well aware of how his works have been criticised for being "simple", as he told the Financial Times.
Perhaps living in an age saturated with chaos and information overload, simplicity has become a virtue that is overlooked.
Vivienne Chow
Journalist and cultural critic based in Hong Kong. She is the founder of the non-profit Cultural Journalism Campus and a lecturer at the Chinese University of Hong Kong.
About Alex Katz (1927- )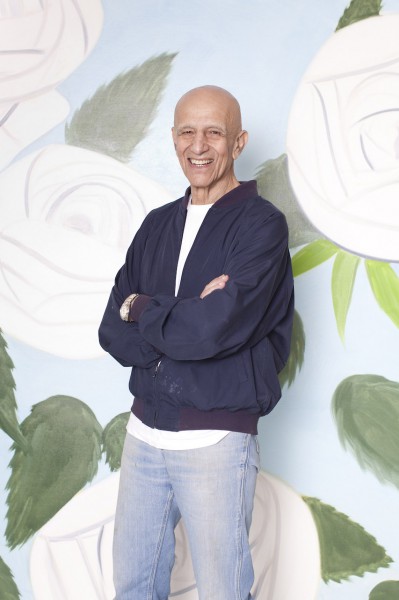 Born in Brooklyn, New York, in 1927, the American artist undertook formal training at both the Cooper Union School of Art and the Skowhegan School of Painting and Sculpture in the late 1940s. Although Katz's career coincided with the height of Abstract Expressionism, he moved towards greater realism in his paintings in the late 1950s and started to develop his unique style, anticipating the emergence of Pop Art with his artistic innovations.
In 1959, he pioneered the medium of 'cutouts' and has maintained the aesthetic of these early works throughout his career. With inspirations taken from billboard advertising, films and television that dominated American life, Katz started creating large-scale paintings in the early 1960s. His massive canvas of group portraitures depicted the social life of America from the 1960s to the modern time. Integrating symbols of American culture into his creation, Katz has made himself now an essential part of this culture.
Katz's first solo exhibition was held at the Roko Gallery in 1954, and in three decades, Whitney Museum of American Art held his first retrospective in 1986. Today, Katz's works are by collected major museums worldwide, including The Metropolitan Museum of Art, New York (U.S.); the Museum of Modern Art, New York (U.S.); the Tate Gallery, London (U.K.) and the Tokyo Metropolitan Art Museum (Japan), among others.
EXHIBITION DETAILS
Date and Opening Hours: 15 March – 1 April 2019 Mon – Sun 10am – 6pm
Venue: Sotheby's Hong Kong S|2 Gallery, 5/F, One Pacific Place, 88 Queensway, Hong Kong
Enquiries: (852) 2886 7887
Discuss in Kanban.