It's time to step out from the Corona pandemic that turns our lives upside-down and make something extraordinary summer holiday season. Inspired by "Feast of the Whole Fishes," this three-courses menu is perfect for your holiday dinner celebration.
Antipasto – Seared Salmon sashimi with sesame seeds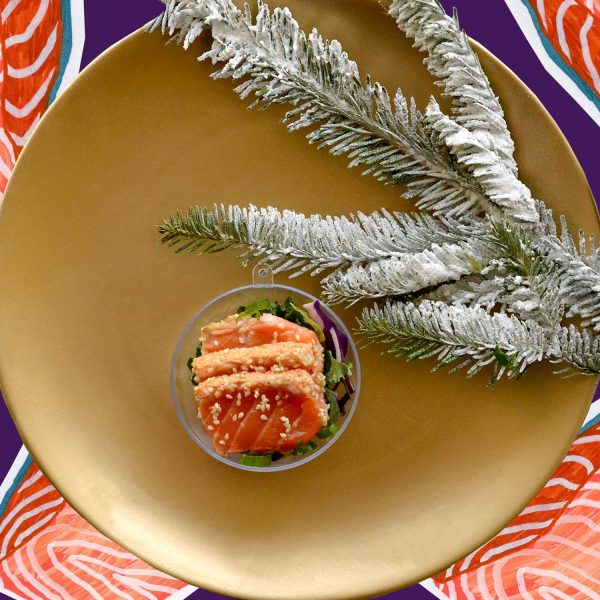 First recipe:
1. Cover salmon fillet with sesame seed.
2. Heat frying pan with a small quantity of olive oil. When hot add salmon file and sear it each side for 20 sec.
3. In each half of ornament add shredded cabbage, then sliced avocado finish with salt pepper and lemon juice plus olive oil.
4. Cut salmon file approximately 0.5-1 cm (1/5-2/5
of an inch)
5. Garnish with scallion greens.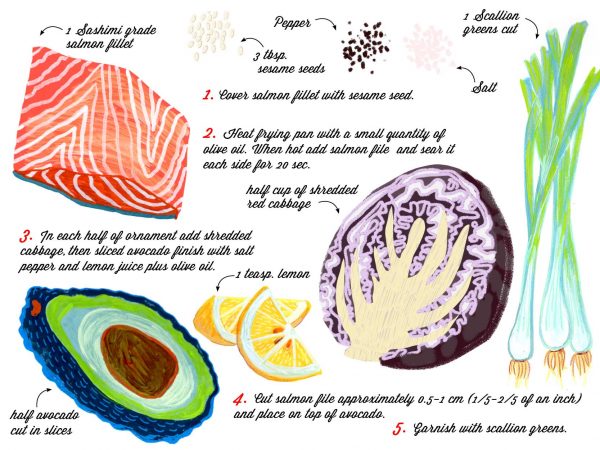 1 Sashimi grade salmon fillet
Half avocado cut in slices
3 tbsp sesame seeds
1 Scallion greens cut
1 tbsp lemon
Pepper
Salt
Primo – Spaghetti with shrimps and salmon roe sauce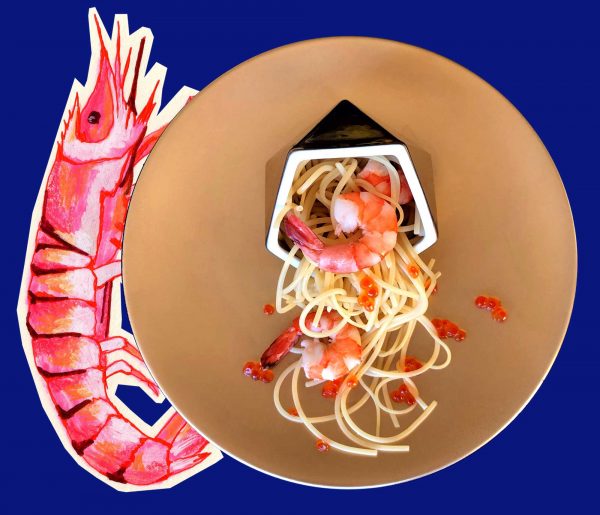 Second recipe:
1. Cook spaghetti according to package directions until al dent.
2. Add butter, garlic cook about 1 min. when add shrimps cook for another 3-4 min.
3. Finish by adding white wine, lemon juice and salt / pepper.
4. Garnish with salmon roe before serving.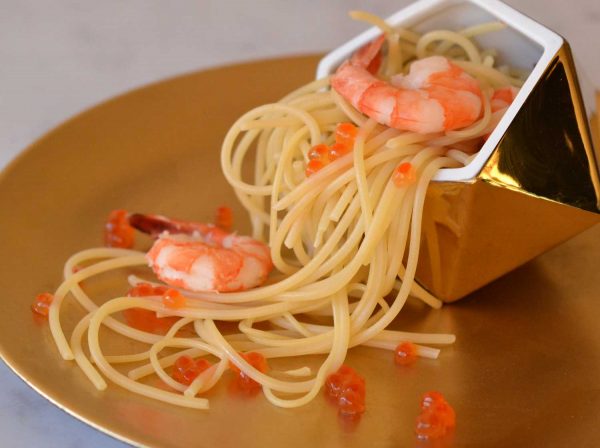 6 oz spaghetti
10 medium shrimp, peeled and deveined
2 tbsp of salmon roe
1/4 cup favorite dry white wine
1.5 tbsp butter
1 clove garlic, minced
Juice of half lemon
Pepper
Salt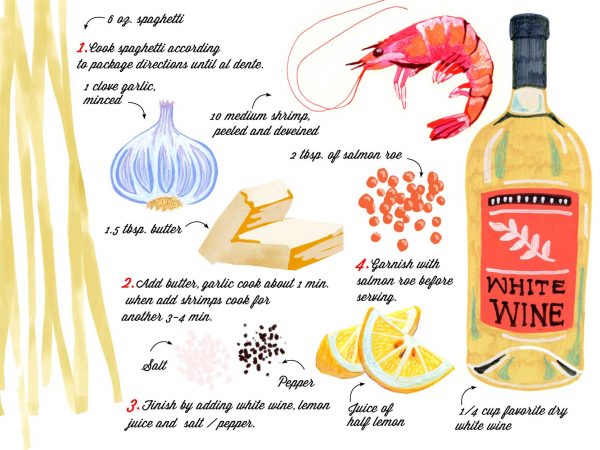 Secondo – Whole branzino with mussels, clams and finger potatoes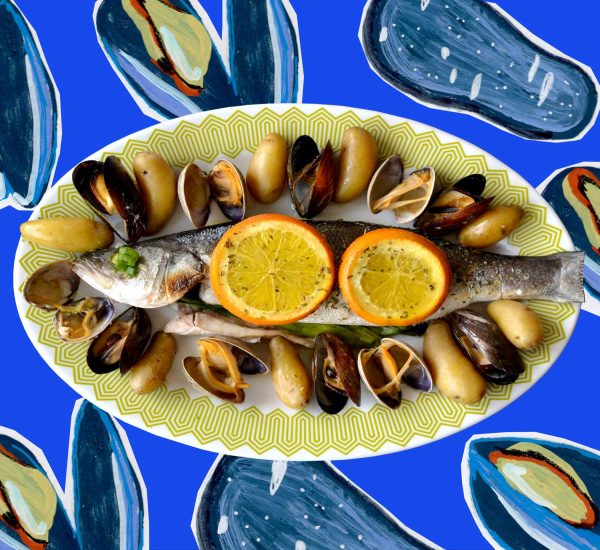 Third recipe:
1. Boil potatoes for 10 min.
2. Preheat the oven to 425. Season the branzino with salt / pepper and stuff with scallions and rosemary. Place 2 slice of oranges on top of fish. Cook for 10 min.
3. After fish cooked for 10 min. add clams, mussels, potatoes and butter. Cook for another 6 -8 min.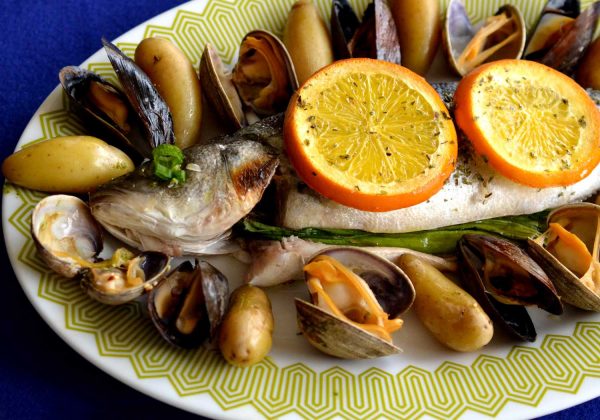 1- to 1 1/4-pound whole bronzino
6-8 clams
6-8 mussels
10 finger potatoes
2 tbsp dry white wine
2 slices orange
3 scallions
1.5 tbsp butter
1 sprig fresh rosemary
Pepper
Salt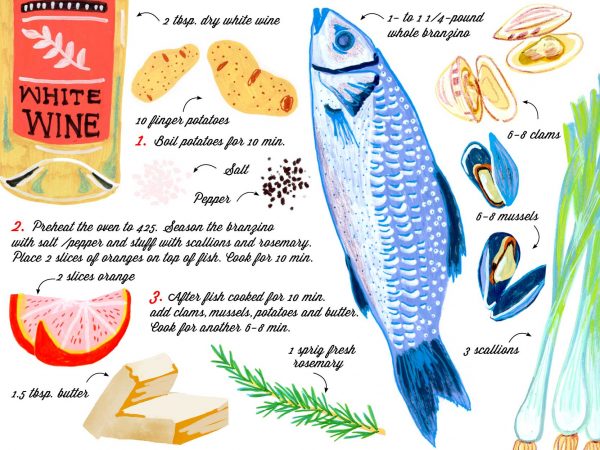 —-
Illustrations by Hilary Hubanks // @hhbanxx
Hilary Hubanks is an Illustrator and Print Designer who creates bright, eccentric drawings and textiles. She lives and works in New York City.
 Recipe and photography by Rita de Guzman // @cookingathomeissexy
Discuss in Kanban. Scan the QR-code and join ArtThat Elites Club, then re-create with artists and take silk-screen handwork home!