For decades he has been a fixture on the art scene, known for his mordant satire, his way with words, and his ruthless critiques of society. In his pictures, Werner Büttner addresses the pressing issues of our times, rebelliously defying political correctness. He is among those artists in Germany who, since the late 1970s, have reconnected art with actual socio-political reality.
Hamburger Kunsthalle, Galerie der Gegenwart
15 October 2021 – 16 January 2022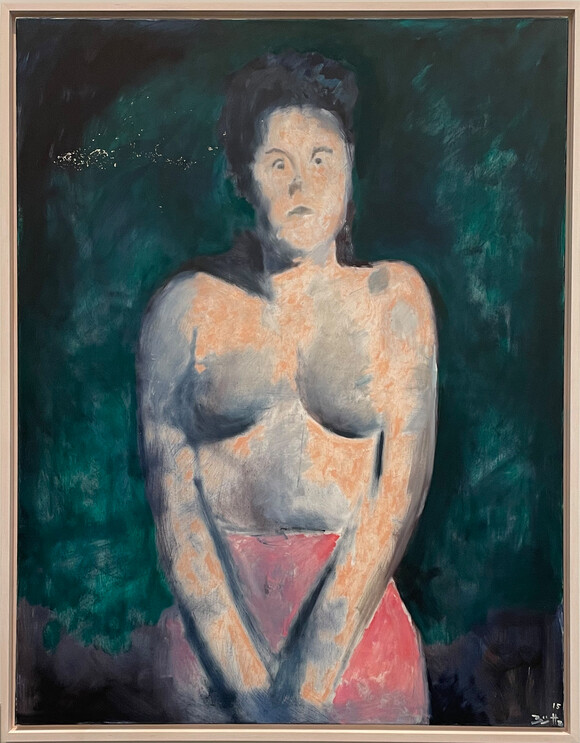 After the Brawl with Table Legs, Over her…
Oil on Canvas, 2016
Born in Jena in 1954, he fled to West Germany and grew up in Munich and Berlin, before moving to Hamburg where he became one of the main figure's of the "Junge Wilde". Within this group that included Martin Kippenberger, Albert Oehlen and Georg Herold, he is considered the intellectual, a critical analyst and relentless observer whose motifs offer savage commentaries on human behaviour.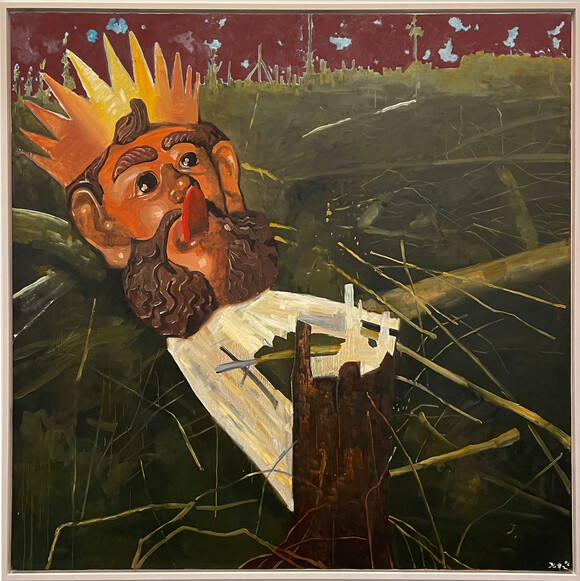 Transition of Power, 2006
With its ironic humour, rather than formulating one dimensional statements, Büttner's painting encourages people to use their own brains. This attitude was identified by influential professors at Hamburg's University of Fine Arts (HFBK) like KP Brehmer and Franz Erhard Walther as a conceptual approach to painting, and they asked him to joint the staff. For more than thirty years, cloaked in the aura of the polymath, he has exerted decisive influence on his students, who include Daniel Richter and Jonathan Meese.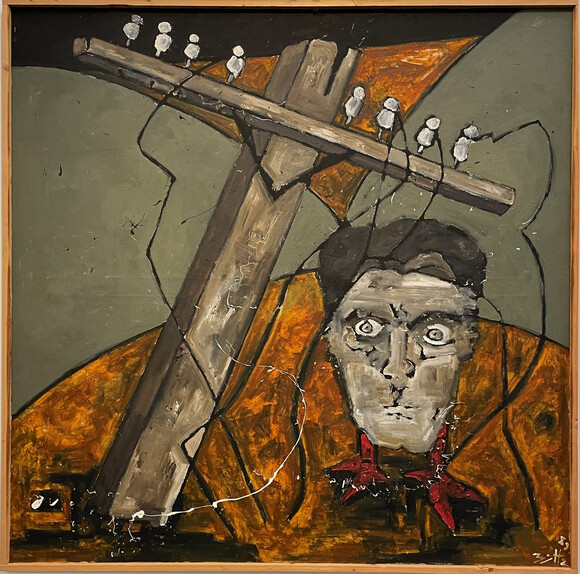 No illusions! Oil on Canvas,1989
In eight themed sections, "Last Lecture Show" presents more than a hundred oil paintings and collages, made between the 1980s and today, including dark abstractions, portraits, animal scenes and fantastic compositions in bright, saturated colours. The titles of the works are as absurd as the baffling motifs that are sometimes hyperrealist, sometimes surreal.
In Büttner's first major solo show at Hamburger Kunsthalle, his mostly monumental canvases and bizarre, cryptic collages fill an entire floor of the contemporary art wing. The exhibition shows Büttner to be the trailblazer for an entire generation and a central figure in German contemporary art.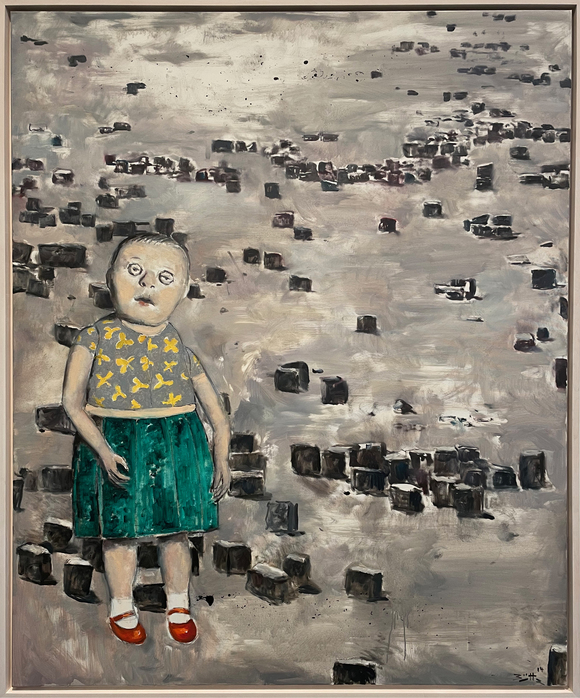 After the Street Battle, 2014
Büttner leaves nothing to chance. Just as his titles are subtly thought through and formulated, just as his pictures are many layered and full of allusions down to the smallest detail, so the artist devised the sections of his exhibition himself:
1. Like weeds, unreason sprouts even by starlight
2. Formative veneration
3. Flight into coupledom
4. On thrownness and entanglement
5. From the lives of the Gods
6. From the lives of the losers
7. Parallel creatures, declared to be fair game (Gen 9, 2-3)
8. From the sanatorium of my hands
They bring together his mental universe and his inexhaustible store of motifs. In the show's various sections, Büttner's painting presents itself as a powerfully eloquent flood of images in which he figures as a scholar parodying the world with his brush.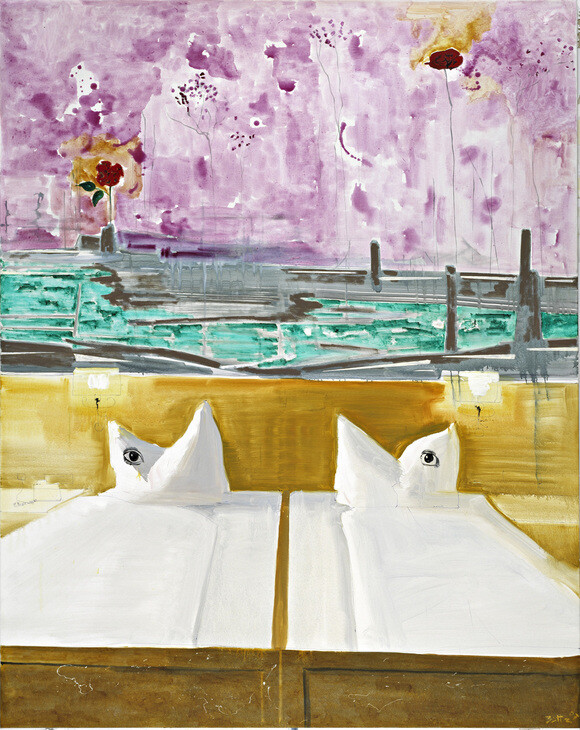 Skirmish of the Roses, 2007
In close cooperation with the artist, an extensive catalogue (German/English) is being prepared for publication by Hamburger Kunsthalle and Hamburg's Uni-versity of Fine Arts in time for the opening in October. This innovative scholarly project seeks to reappraise Büttner's painting, with eleven well-known critics and art historians (Kate Brown, Elodie Evers, Jane Ursula Harris, Sarah Edith James, Jesi Khadevi, Larissa Kikol, Alexander Klar, Melanie Ohnemus, Barry Schwabsky, Wolfgang Ulrich, Bettina Uppenkamp) taking an analytic and dis-cursive look at the artist's complex oeuvre.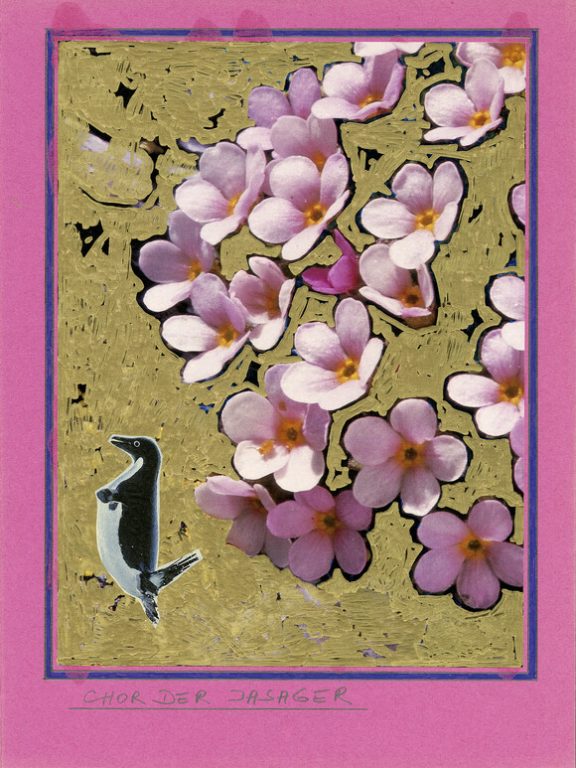 Chorus of the Yay-Sayers 2017
These essays will be framed by seven texts by Büttner himself in which he introduces the sections of the exhibition in condensed, humorous form. The catalogue's graphic design is an art project in its own right, carried out by Prof. Ingo Offermanns. As well works featured in the exhibition, it also includes many other works that have rarely been shown in public.
The mission of ArtThat Now is to make accessible the art history of our time. We do all of the uploading and maintenance for you:
• Featured on our bilingual website
• Recommended on Flipboard
• Featured in our eNewsletters *
• Featured in our Official Public Accounts *
• Timestamp On The Blockchain *
• 360° VR panoramas H5 Web App *
Discuss in Kanban. Welcome to search "艺廊网", "artthat" and follow us on WeChat and Weibo.
Now join ArtThat Elites Club, then re-create with artists and take silk-screen handwork home!