In 2018, Contemporary Art sales in Asia reaches HK$1.17 billion, the highest total in Sotheby's 45-year history in Asia, more than doubling our nearest competitor. Sotheby's Hong Kong Modern Art sales total reaches HK$ 2.08 billion – historic high.
Contemporary Art Market Report Selected Highlights:
· Tripling competitor's results in Western Contemporary Art
· Dominating virtually every category (Japanese, Chinese and Korean) in Asian Contemporary Art
· Unrivalled leadership across all metrics, achieving the highest sell-through rate, the highest per lot value, and the highest lots offered and highest percentage of lots sold above high estimate
· Joan Mitchell's auction debut in Asia, with Syrtis selling at HK$ 56.6 million /US$ 7.2 million, achieving a top 10 record price for the artist
· Robust performance for both Chinese and Western Contemporary Art, setting a series of new auction records
· Setting stellar market-leading prices on Dansaekhwa
· Reigning house for Japanese Contemporary: Sotheby's represents 63% of all Japanese Contemporary art sales in Hong Kong in 2018.
· 3 White Gloves sales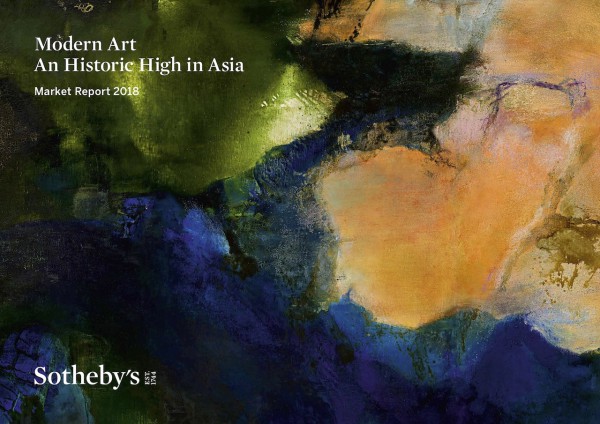 Modern Art Market Report Selected Highlights:
· HK$1.1billion record breaking Modern Art Evening Sale
· Sotheby's sold 5 of the top 10 highest-valued lots auctioned in Hong Kong in 2018, more than any other auction houses
· Sotheby's holds 4 out of top 10 auction records for Zao Wou-Ki
· Market leader in Modern Asian masters, including Chu Teh-Chun, Sanyu and Wu Guanzhong
· 100% sold rate for western lots
· Achieved robust prices for emerging artists
· Long-standing leadership in Modern Southeast Asian Art with 100% sold rates in 2018 Evening Sales
To read the full Sotheby's Asia Modern-Contemporary Art Market Report 2018, please click here.